We spealise in executing large-scale projects
Touching lives of hundreds of schools, thousands of teachers, lakhs of students
and countless families for whom education spells progress
Our maiden project in Palghar
The taluka of Palghar is located about 110 kilometres north of Mumbai; off the highly active Mumbai-Ahmedabad rail/road corridor. It is the administrative capital of the Palghar district, which was formed on 1st August 2014, and offers high growth prospects. Individuals from various age-groups travel from surrounding villages to the Palghar taluka for different job opportunities, education, business, shopping and health care facilities.
The region has about 570 schools comprising of Government, Government-aided and Private Institutions. While there's a dense network of primary schools which cater to the educational needs of children upto the 4th standard; the number of mid-schools and high-schools are few. As a result, these schools see skewed teacher-to-student ratios; making it difficult for educators to deliver quality education through conventional means.
Our team began working on its maiden rural education project in Palghar during December 2014. Within a span of one year, we were able to move local authorities, school managements, teachers and socially-responsible corporates to integrate our 'Smart Classroom System' to augment teaching processes in some of the most densely populated schools in the taluka. Our efforts have been recognized and supported by the Education Ministry of Maharashtra Government, and we are now working to deploy our 'Smart Classroom System' in schools across Maharashtra.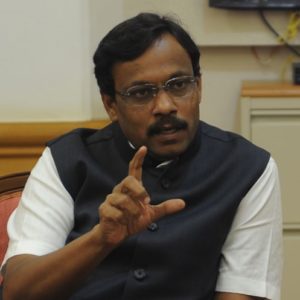 Hon'ble Prime Minister Shri. Narendra Modi launched the Digital India programme with the vision to transform India into a digitally empowered society and knowledge economy. Education is one of the key focus areas of this programme, and I am proud to announce this innovative rural education project which will benefit thousands of children in the Palghar district of Maharashtra. The fact that this project is being spearheaded by a dynamic young team with the support of socially-responsible corporates is extremely heartening, and we hope to see more such collaborations in the future.
– Shri. Vinod Tawde Hon'ble Education Minister of Maharashtra
DHFL has been stead-fast in its corporate commitment to enable common people to fulfil their aspiration to better living by giving access to affordable housing finance. Education is key to better living, which is why we have adopted it as a major objective under CSR. It is aligned to the Founder's vision of enabling home ownership to every Indian; a commitment that has been our mission for over 30 years. It gives me immense pleasure to announce our support towards this innovative rural education project by ConnectEd Technologies, which will enlighten the minds of thousands of children in the Palghar district of Maharashtra.
– Kapil Wadhawan, CMD, DHFL